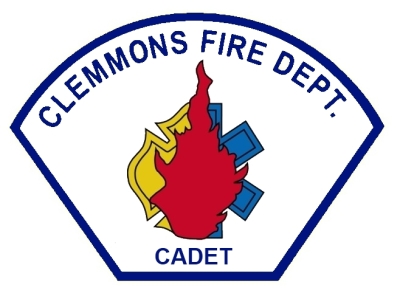 The Clemmons Fire Department is proud to sponsor the Cadet Program. The Fire Department offers students from the Clemmons areas the opportunity to interact, on a first-hand basis, with fire department personnel. This allows the cadets to experience the various aspects of what it is like to become and work as a firefighter. The Post strives to provide both an educational experience as well as teaching these young adults how to become mature and responsible adults who are accountable and contributing members of society.
Clemmons Fire Cadet Mission and Vision Statement
Mission Statement:
The Clemmons Fire Cadet Program instils experience, knowledge, and life values through interaction, involvement, and education. Through service to our department, community and ourselves we build the fire service for the future.
Vision Statement:
Through accountability to those we serve, we promote the future of the Clemmons Fire Department.
Core Values:
Teamwork
Honest Communication
Commitment
Excellence
Membership
     Membership will be restricted to fifteen (15) non-firemen who have attained 14 years of age and/or have completed the eighth grade with a maximum age of 20 years. Acceptance of new prospects for membership, with approval of the Chief of Department and Program Advisor(s) shall be based on the procedures set forth in the Recommended Operational Guidelines (ROGs): 
Q. Do I get my own gear and uniform?  
A.The fire department provides the gear and a uniform shirt for the cadet but they have to provide the pants and shoes. 

 Q. How often do the cadets meet?  
A. The post meets on the second, third, and fourth Tuesday at 7 o'clock PM until 9 o'clock PM.
 Q. Can cadets run calls?  
 A. Yes, cadets can go on calls only from the fire department.
 Q. How can I find out more information about the post?
A. By contacting the Station at 336-766-4114 or by e-mailing an advisor at advisor@clemmonsfd.com 
Addition Information Below

Download
Cadet Application for Membership 
Questions or want more information about joining the Cadet Program fill out the below information and one of the advisors will contact you.